Five Ways to Master Double-coating Like a Pro in Spring 2019
Hi guys!
Spring is officially around the corner- the days get longer, and the coats get thinner! That's why it's a perfect time to ditch your thick puffy winter jacket and come back to the land of chic coats. Notice, plural!
Here are five ways to master your double-coating game, read on!

Tip 1: Pattern Match
If you are a double coat newbie, and want to try something that works every time, pattern-match is definitely something easy to manage. Plaid on plaid, floral on floral, gingham on gingham, or even stripes on stripes will make your style looks super fun! In this look, I layered one plaid coat on top of another- to avoid looking too visually complicated, I chose to stick to a neutral muted tone. Voila! Isn't that easy?
Color Play
If you know me well, you might say that this is not my typical look, as I normally go for a more muted, more neutral color palette. But when I got my hands on the Maggie Wu Lucia silk slip on, I had to dedicate a look for its prosperous yet elegant red! One tip I always use when styling for bright colors is you always choose a hero product, and main the rest of your pieces in the same color tone. My case for example, the red slip on is the hero, so I styled it with 5 different shades of red! And if you're not sure what colors will work together, imagine adding some white paints into the hero color, you will have your answers!
Texture Mix
Texture for me is such a fabulous little thing! It feels so insignificant, but at the same time nothing brings out the WOW effect like a good texture party. This was the first look of NYFW earlier in February, and I absolutely love it! I layered a camel wool coat outside of a vintage blazer that was passed down from mama Chen, isn't this a fun combo? Grab any sweater you have in your closet, and styled it with your pants of choice! I like to look like "I-AM-NOT-TRYING" so I styled it with a a pair of vintage Levis Mom Jeans I got in a Paris thrift shop. But seriously, any pairs of jeans will do! And of course, nothing completes the outfit even more than having a girlfriend that rocks double-coat like a super star! Meet Krity guys- isn't her outfit fabulous?
Long + Short
If you're worried about you might look chunky after layering on two layers of coats, "Long+Short" is the way to go! The light jacket you wear on the inside will create a nice layer of structure while making you look taller at the same time! If you're feeling playful, match the color on this one as well to complete a even more put-together look.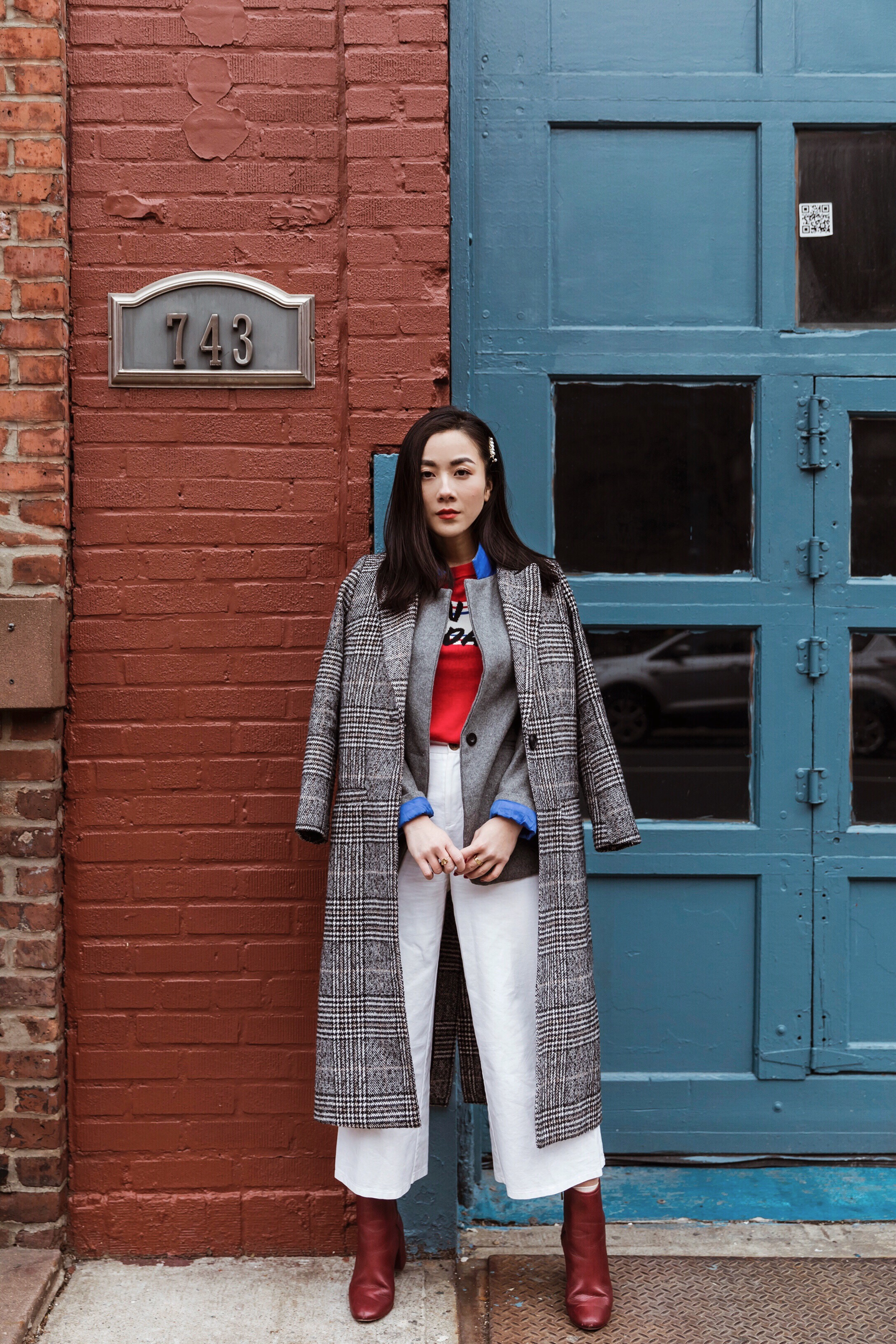 Belt It Up
This look is Parisian-inspired, and probably one of my favorite! I love how Parisian women always wear blazers effortlessly; this look is a salute to them! To accentuate your waistline, belt the thinner jacket you have on the inside. The tip here is to choose a belt that's darker than the rest part of your outfit, your waist will instantly look a lot smaller!