The one bag you need this fall for three versatile looks
This blog post is sponsored by Farfetch, featuring Zac Zac Posen Belay Shoulder bag; all opinions are 100% my own.
Someone might argue that a woman can never have too many black dresses; I, on the other hand believe that one can never have too many black bags! In celebration of wrapping up #NYFW, I partnered up with Farfetch, and put together 3 all black fall-ready looks to go with this iconic Zac Zac Posen Belay shoulder bag.
Date Outfit | Parisian Date Night (Click for product details!)
One good thing about styling a statement dress is that you actually don't need to put too much thoughts into it- a simple beret, some red lipstick, and then you're good to go! I love how this Nicole Miller dress has a special lace tie design in the front- soft yet edgy, perfectly in line with the Zac Zac Posen bag. I generally don't like myself to look too soft and sweet, so this bag really balances out the femininity of this dress!
Daily Wear | A Makeup-less Sunday(Click for product details!)
We all have those days- where we just want to put on a pair of loose jeans, a easy tank top, and a pair of comfy shoes with no make-up on, because it's Sunday and you just want to be your comfortable self. This day-to-day easy outfit might seem a little plain at first, but if you add in a little detail- such as a pair of pink suede slide, the iconic Zac Zac Posen bag, and one extra cute girlfriend (She's Jenn from @JennHanft!)- STYLE ENVY, anybody?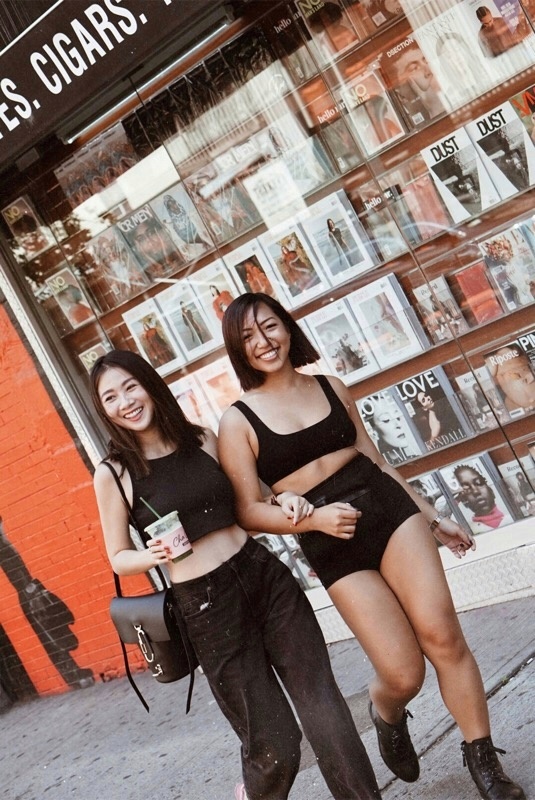 Event Outfit | Bohemian Rock Star(Click for product details!)
Sometimes, I like to go a little extra. Leather has been one of my favorite materials, so I went all out with Nicole Miller's leather jacket and tank top! To create a softer edge, I paired them with a long pleated skirt. This all black Zac Zac Posen just tie everything up nicely. Am I right?
I am pretty sure by now you guys know I probably will have even more outfit styling this bag as it's so versatile, but that's all I am sharing for today! If you like this bag as much as I do, make sure to use my Farfetch discount code to buy it! Happy reading! (And Shopping!)
Photos by: Ashley Gallerani (Look 1 & 3), Tricia Chen (Look 2)