Three outfit variations for your everyday black sweater
If you always feel like you don't have anything to wear even if you have a full closet of clothes, this post is for you! I am sharing three street style looks that can be easily copied if you have one black sweater and a pair of high waist trouser. Mine is Khaki, but honestly it can be in any color!
如果你也跟我一樣常常望著滿坑滿谷的衣服卻覺得自己都沒有衣服穿,恭喜你,這篇文章就是為你寫的,請繼續詳讀。今天要分享的造型秘訣是透過同樣的服裝,搭配不同的飾品創造三種不同的造型。如果你也有黑毛衣和高腰老爺褲,真的可以完全自己嘗試在家搭配喔!
Urban Hippie
When you feel like your outfit is plain and uninspiring, the easiest thing you can do is throw on a pop of color. For this look, I threw on a bright yellow faux scarf. To make it look edgy and adventurous, I also paired it with a leather jacket and a gentry hat to spice up the look.
一個亮眼的單品,是最能讓一個平淡造型瞬間脫胎換骨的最佳利器。陳媽的黃色毛毛圍巾一披上去瞬間就有一種虎虎生風感。為了中和貴氣感,我搭配了較為中性的黑色皮衣和紳士帽,創造出既摩登又嬉皮的趣味風格。
Hot Pink Sweetie
I know, I love faux. It's just so soft and warm, they feel like my new pets! The highlight of this look is the pink faux, so I kind of let everything else fade away so it does not look too crowded. Less is more, remember?
我最近真的對於毛毛圍巾十分著迷,紐約這裡真的燒到一個不行啊!每次穿戴他們的時候都有一種自己脖子上趴著一隻貓的感覺,好溫暖!這個造型的視覺重點是桃紅圍巾,所以我沒用其他的單品再做搭配,避免整體造型顯得太過複雜。
Pastel Lady
I actually just bought this pastel hat when I was travelling in Philly because I lost my black hat! Millennial pink has been on trend for awhile now, so I thought why not try it out for a change? I love how it instantly soften my total look. Even if I was wearing a leather jacket, I still look soft and feminine.
這頂粉色帽子是我的新寵,今年燒到不行的千禧粉,大家都有跟到吧?我特別喜歡它淡淡的柔和色澤,不僅吸引目光焦點,卻又不至於顯得太過高調,也讓我的整體造型顯得更為柔和。我自己平常不常穿粉色系單品,意外發現這頂帽子就讓它成為造型的主角吧!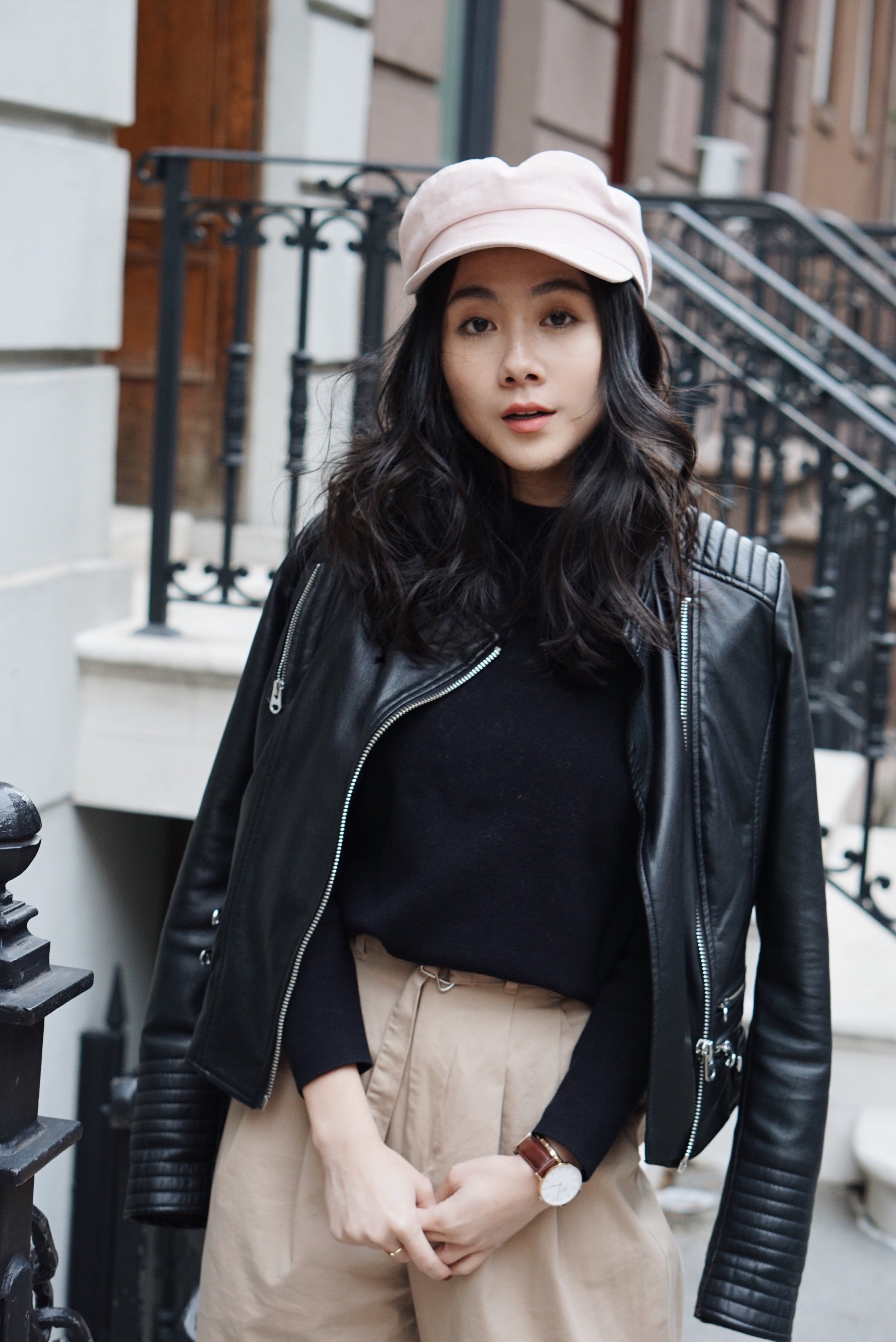 That's enough for today! Hope you guys enjoy this post. Thanks for reading!
今日三款造型分享,希望各位喜歡!
Photos byTricia Chen (@happilyeverstyle)