Guest Blogger Series - 4 ways to style your man's shirt
Hi everyone!
I've been so excited about this blog post for the longest time because I finally invited my dearest dearie Tricia (@happilyeverstyle) to be my FIRST EVER guest blogger! Tricia and I have so much in common, for starters, we share the same last name, Chen, and hence the hashtag #chenster! Secondly, both of our boo work in consulting! What are the chances?
大家好!最近因為校園求職季真的是忙到爆炸,但還是滿心期待地想要跟你們分享這篇文章!因為我終於邀請了我最親愛的姐Tricia(@happilyeverstyle)來當我的客座部落客了!我都笑稱她是我失散多年的姐妹,因為她也姓陳(所以我們有一個#chenster的hashtag),然後我們的男子也都是管理顧問!巧吧?!
Today, we each picked out a similar pink shirt from our boo's closets, and put together 4 looks for you. I will share two here, and Tricia will be sharing the other two on her blog! And what does that mean? If you can get your hands on your man's shirt, you literally have 4 fun looks to rock throughout this transitional season. Don't we all love that?
今天,我們將挑戰用男子襯衫做造型,四種不同穿搭法讓你一次享受!我在這邊會分享兩款穿搭,Tricia的部落格上也會有兩款喔!各位走過路過不要錯過!
TRICIA'S TAKE ON THE MAN'S SHIRT - TRICIA的詮釋
Hi, everyone! I'm so honored to be the #guestblogger on Lisa's blog today. This sounded like such a fun project when the idea came up, and I had a great time working with Lisa!So for this look, I wore a grey cropped top under the shirt and tied the shirt to shortened it. The aim was to elongate the legs. A statement necklace was added for a pop of bling! On the bottom, I paired it with black leggings and black tie-up block heels; the heels give the outfit the feminine element I wanted to attain. Another thing I decided to do was to wear a burgundy floppy hat, to add a touch of autumn to the entire outfit!
大家好!真的是很榮幸今天可以以「客座部落客」的身份在麗莎的部落格上分享聯名穿搭!今天我在男子襯衫下搭配了一件淺灰色短版上衣,而造型決勝點,就在於我把襯衫綁起來,不僅創造了造型的細節,也讓腿部的線條向上延伸。華麗項鍊在上延續視覺的焦點,下半身就用簡潔的黑色展現俐落風格。如果想要挑戰讓造型更華麗,搭配勃根地酒紅的紳士帽,讓整個人呈現早秋風範!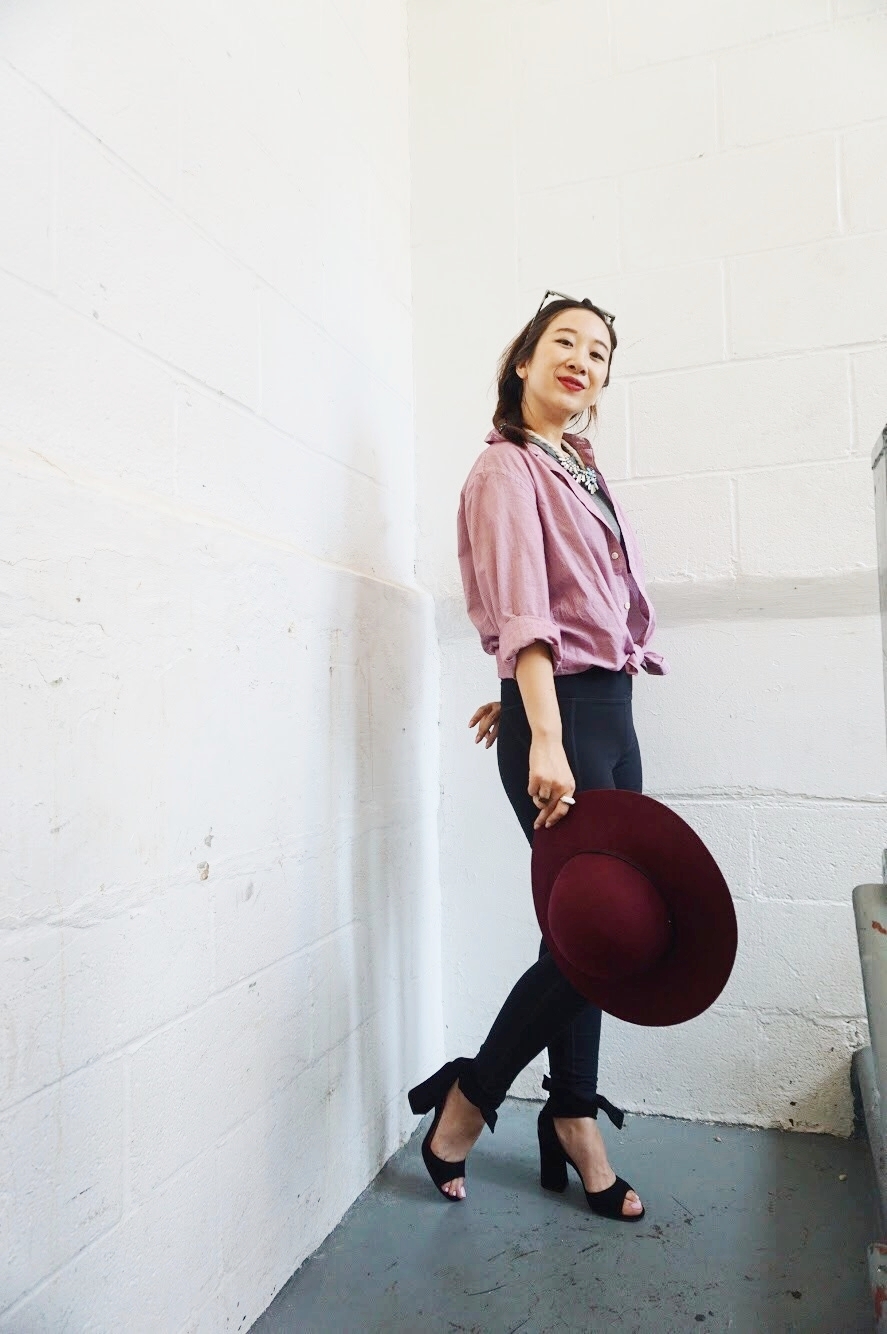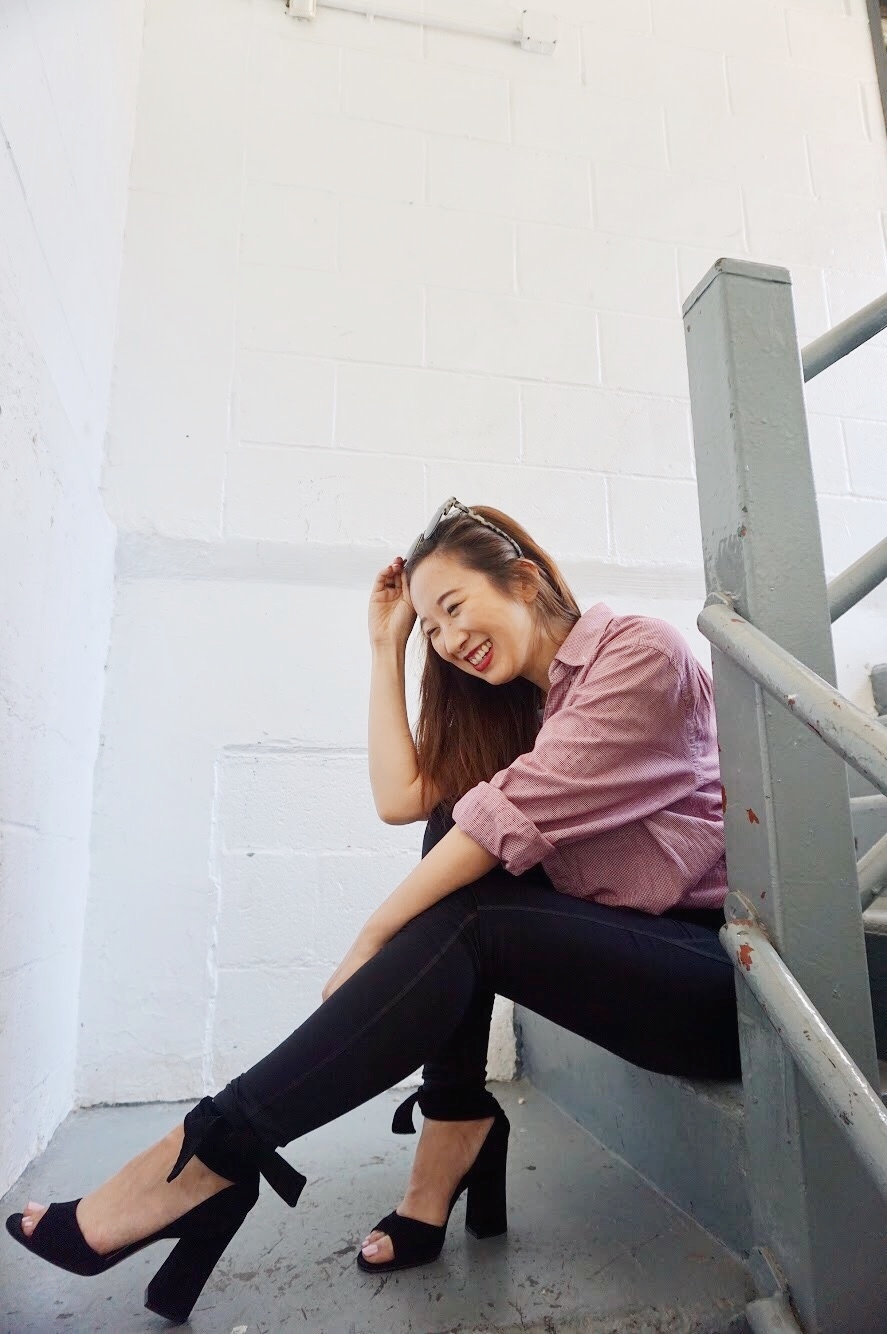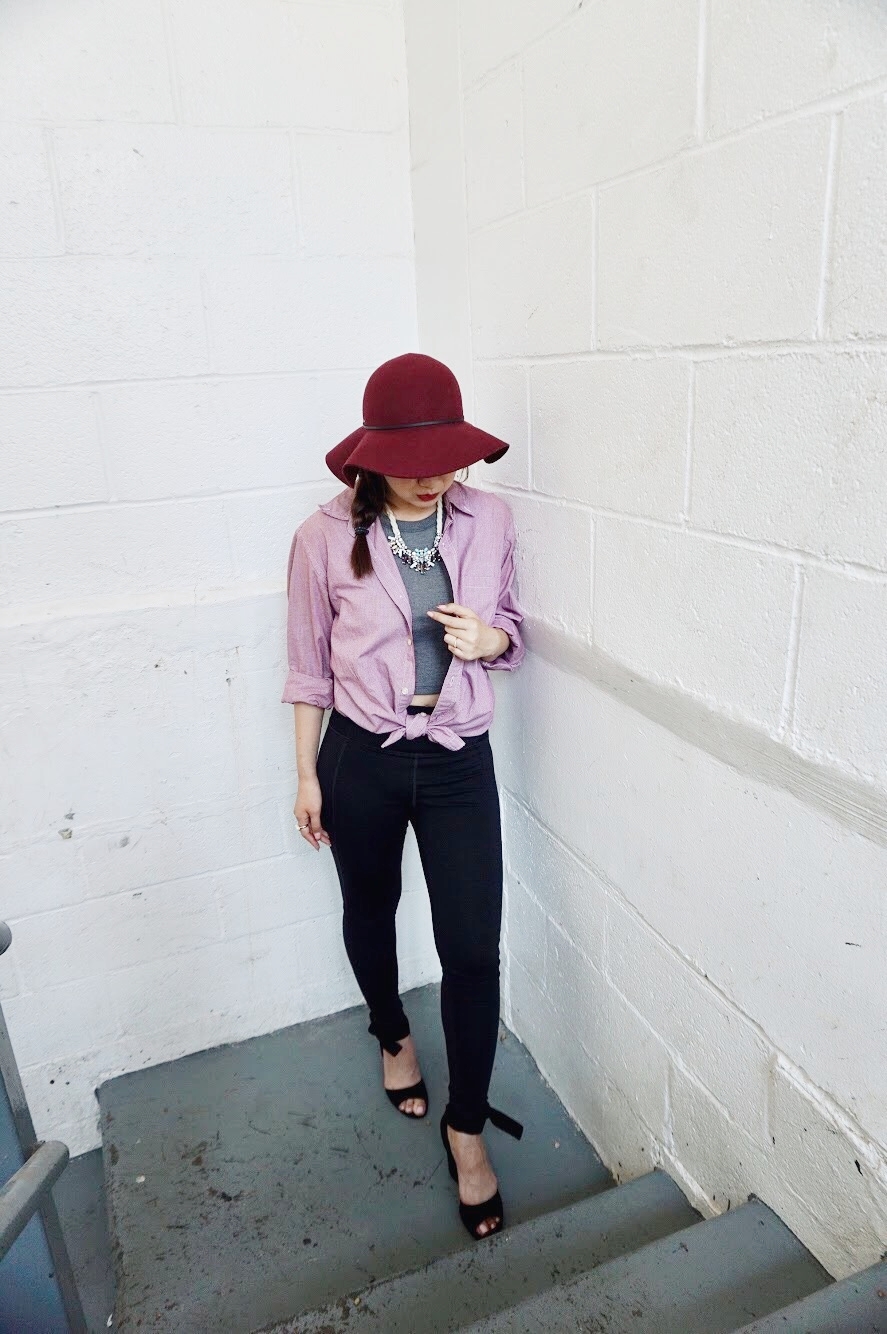 MY TAKE ON THE MAN'S SHIRT - 麗莎的詮釋
One thing I really love about fashion, is that as long as you wear something with confidence, nobody can say anything about it! So today, I am styling the man's shirt in a least conventional way. Is it a top? Kind of. Is it a dress? You can say so. Is it a vest? Why not. What makes this look fun is that I paired this Sherlock Holmes's inspired look with a silver pencil skirt and a gentry hat. The tip of not looking bulky in a man's shirt, is to create enough see through when styling, that's why I had only two buttons buttoned and leaving the rest of them open. And never forget the petite 101 rule- Elevate the waist line with a belt!
關於時尚,我最喜歡的一件事,就是不管你穿什麼,自信都是最好的妝點。大家看得出來我這男子襯衫到底是什麼穿法嗎?有點像上衣,又有點像裙子,又有點像披風?為了讓男子的襯衫不至於太過寬鬆而顯胖,適量的透膚感是必要的,所以我釦子只扣了兩顆,不是因為我愛露喔!最後別忘了,矮子瞬高的秘密單品- 皮帶!!!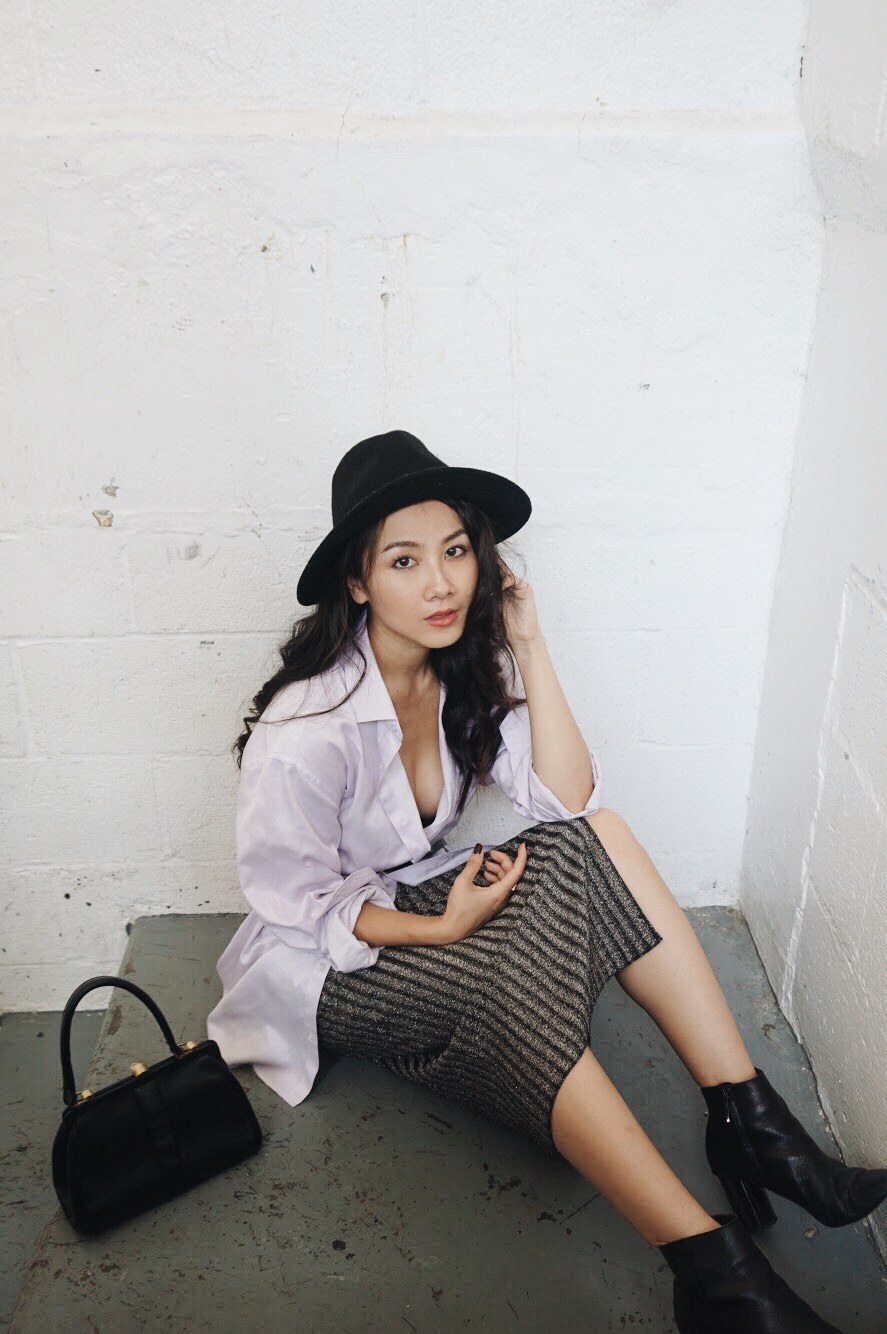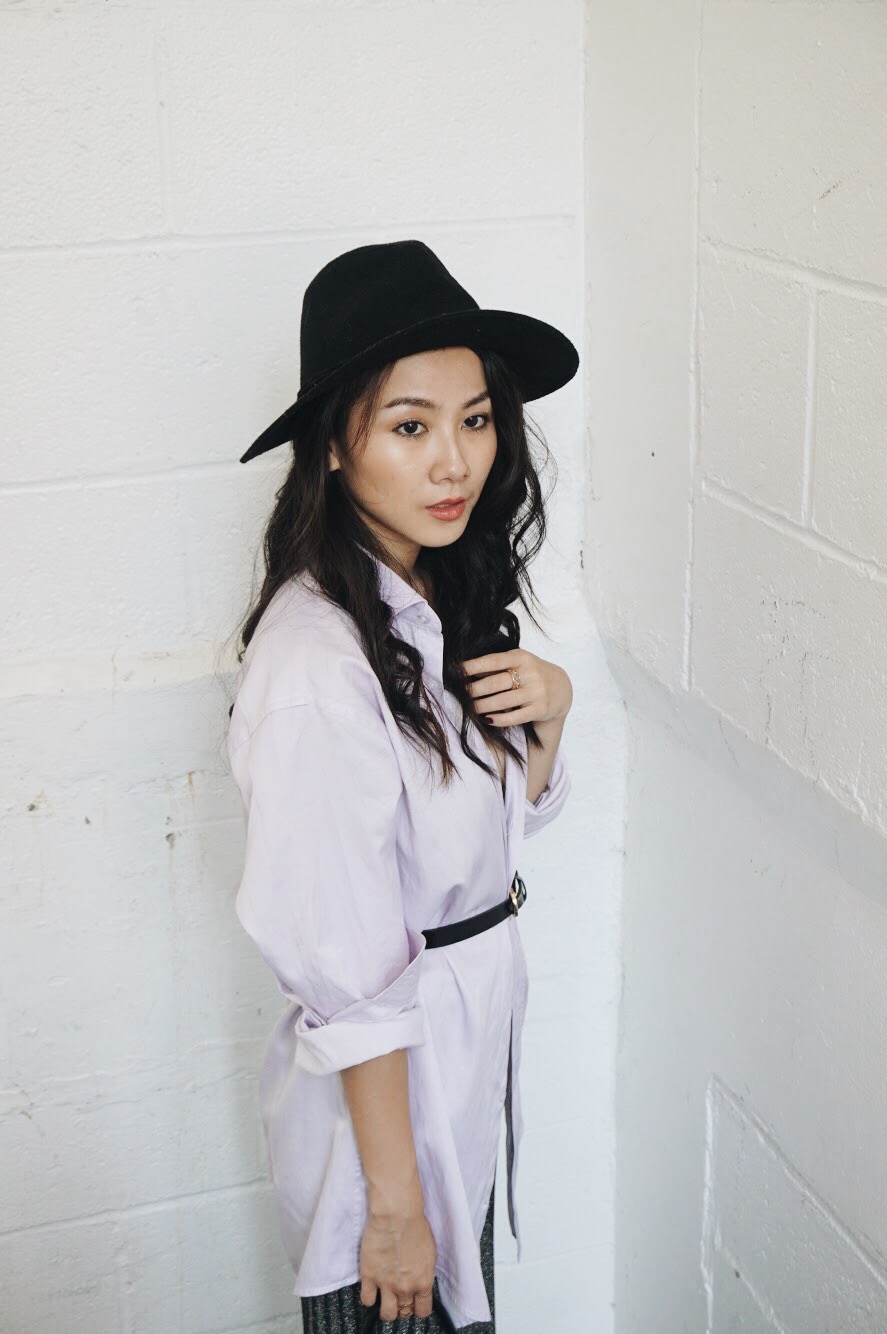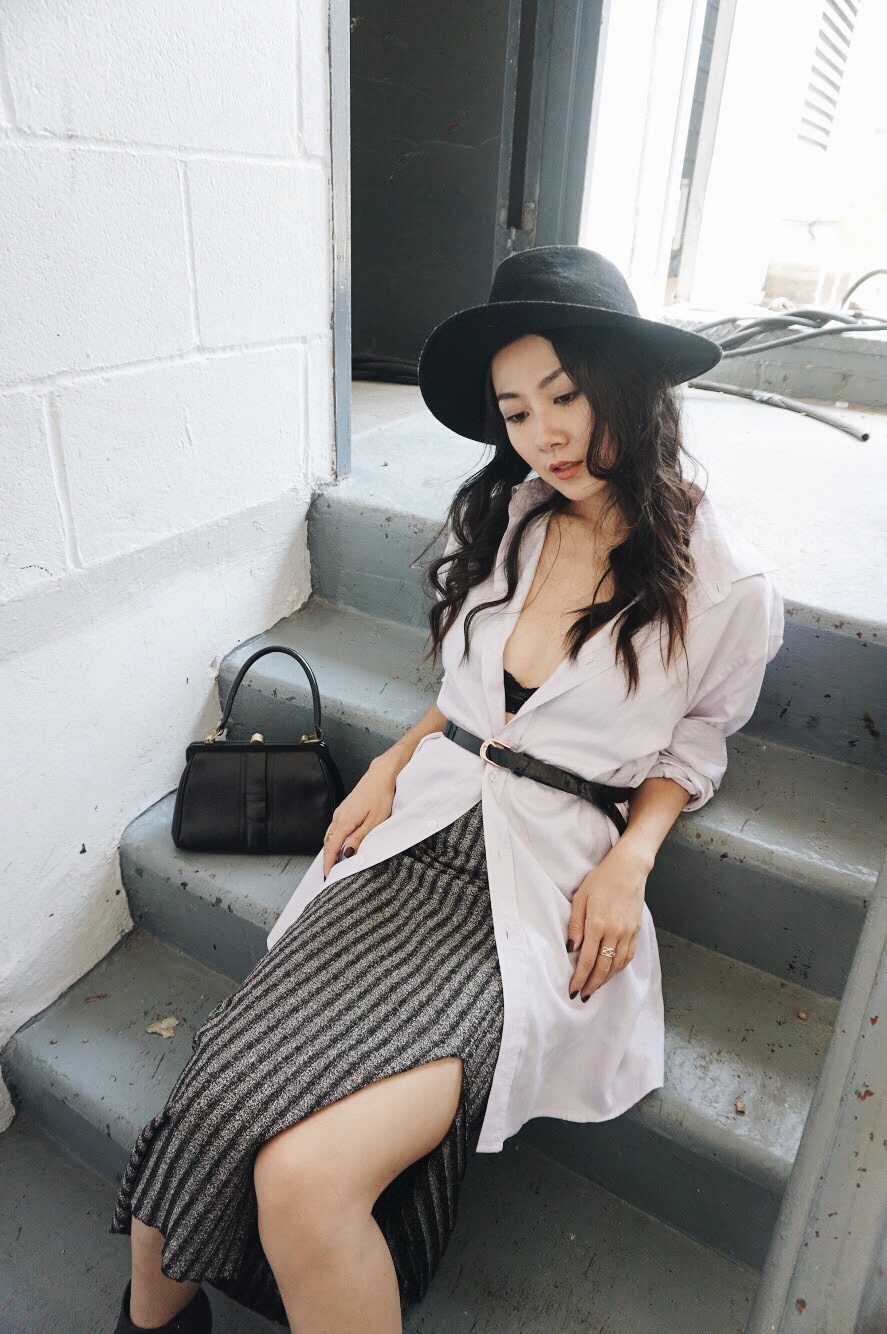 I hope you guys like the two styles Tricia and I put together here today, and make sure you check out two other looks on Tricia's Blog! How do you guys like this series? Leave a comment and let me know! See you guys next time!
希望大家喜歡這次我和客座部落客Tricia的聯名分享!別忘了去她的部落格晃晃,另外兩套穿搭分享正同時上映中喔!
Xx
Lisa